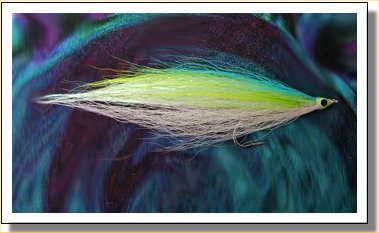 Imagine you are standing on the bow of a small aluminum boat, floating down the Zambezi River in south central Africa. It's an October afternoon, the dry season. You're seeking tigerfish, so-called for its stripes and for its mouthful of very long and exquisitely sharp teeth, a fish considered to be the most ferocious of all fresh water game fish.
Your rod is at the ready. Your guide maneuvers the boat towards a likely-looking spot—a tumble of brush at the side of a quiet pool. As you approach you begin your cast, measuring line carefully so that the fly doesn't catch in the brush or—especially—land too close to the elephant pulling up weeds at the bottom of the pool. You count a few seconds to let the fly sink and then begin a rapid retrieve. You pause to let the fly sink, then retrieve rapidly again. As it's the dry season the Zambezi is very clear and you can see your fly as it moves through the water. Suddenly the fly disappears from view. You rear back. You're on.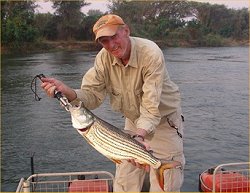 A tigerfish can easily chomp through any monofilament leader. They also have a talent for wrapping the line around brush or other obstructions. But this time your luck holds. The fish heads for open water, peeling off line and jumping all the way. When finally it tires you bring it close to the boat. Your guide grabs it by the tail and hoists it aloft, a glistening, handsome fish whose profile and silver flanks resemble a striped bass but with the spiked teeth and angry glare of a barracuda. Carefully you extract your fly and release the fish to fight again.
Imagine this and you can imagine my excitement during a recent trip to the Zambezi. I went at the invitation of my cousin Henry who runs a walking safari operation in Zambia and who thought it might be a good idea to add a few days of fly fishing to his tour package. A first-class idea I thought, and in late September off I went to learn about tigerfishing.
I began the trip with a few days on the Upper Zambezi (the Upper Zambezi is that part of the river above Victoria Falls) before moving on to the Lower Zambezi. Staying at a series of elegant bush camps, each morning and afternoon I sampled long and varied stretches of the river in search of tigerfish, all the while constantly distracted and amazed by the prodigious numbers of elephants, cape buffalos, and hippos along the banks and in the water.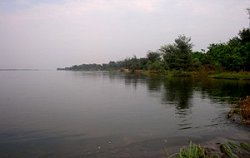 If you ask six guides what flies work best on tigerfish you'll likely get six different answers. One will prefer bright and flashy, another dark and somber, while yet another will prefer a fly that more closely imitates a natural baitfish. My guide on the Upper Zambezi recommended an all-black streamer and so I dutifully tied on a Black Depth-Charger Soft Hackle Deceiver about 4 inches long. He was skeptical about my wire leader (a 6 inch Berkley clear Steelon with a snap swivel) but I was curious to see how it worked; and it did well enough to land a 13 pound tigerfish, my first and largest fish of the trip.
My guide on the Lower Zambezi preferred more natural imitations so I began with a Secret Tarpon Minnow, a realistic baitfish pattern. It worked well, fish often hitting it as soon as the moment it landed. But I'd only brought a few and went through them quickly. So I switched a semi-realistic olive/white FishHead Bucktail. This also worked until my last was chewed up (tigerfish teeth are VERY sharp).
So I went to a chartreuse and white BeastMaster General, one of my favorite striper flies. The BeastMaster General has a deer hair head that "pushes" water and provides some flotation, useful when fishing around underwater snags. The fish loved it. In the evenings before sunset I would fish it close to or on the surface, skipping and hopping it like a wounded baitfish. One very large tigerfish came out of nowhere and almost tore the rod out of my hands before breaking me off after several jumps and a very long run towards the Zimbabwe side of the river. So for several days the BMG was my go-to fly until I also ran out of those as well.
I'd brought a tying kit with me but in the morning when I sat down to tie some more BeastMaster Generals at my table by the river's edge I couldn't find any deer body hair. Must have forgotten to pack it. So what now? A baitfish imitation to be sure, but what kind? Why not an imitation of a small bream, I thought. They were certainly plentiful in the slower waters of the river and a tempting morsel for tigerfish. I decided to tie an imitation in Hi-Tie style, which is simply a bucktail tied with layers of hair all along the top of the shank. To add a bit more flash than usual to the fly I alternated bucktail with pearl Gartside's Secret Stuff (GSS) which gave it a sort of internal glow. To make the fly fuller and more like a chunky bream, I added a long throat of bucktail to the underside.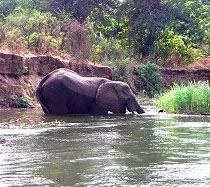 The finished fly looked good. I took it from the vise, snapped it onto my 6 inch wire leader, and walked to the nearby bank overlooking the river. Peeling line off my reel, I lowered the fly over the edge and into the pool below. Feeding out more line, I let the fly sink and drift down almost into a tangle of roots and logs and then began to twitch and wiggle it back, watching the hairs move lifelike through the clear water. And then suddenly it disappeared. I didn't see the fish, just the disappearance, but I set the hook—and up it came, head shaking, gills flaring, tail dancing, and then it headed off to the other side of the river.
After some minutes I was able to bring it back to the edge of the bank below me. But now I had a problem. How to get the fish up the steep bank so that I could release it. The bank was too steep at this place to allow me to climb down but about a hundred yards along there was a place where the bank had been caved in by elephants and so I walked along the high bank towing the fish across the top of the water until I reached a spot where I could walk down close to the water's edge and grasp the fish by the tail (I had no grip with me), remove the fly, and release the fish as quickly as I could—and just as quickly get out of there. I stress the word "quickly" because while I was working the hook free I noticed a very large crocodile basking in the early morning sun just downstream from where I was standing, not a hundred feet away. Much too close for comfort. At the moment it wasn't doing anything but lying there and looking in my direction. But who knows the mind of a crocodile? Only the day before I had seen a croc almost twenty feet long come up out of the water to take a low-flying bird. It gave me the shudders just to think about it and I climbed back up the bank as fast as I could. When I reached the top, I swore that if I ever caught another tiger in this spot I would find some other place to land the fish.
Crocodiles aside, the Hi-Tie I tied that morning on the banks of the Zambezi became the fly that from that day on caught most of the fish taken on the trip. As I've noted above, almost any baitfish pattern fished well will take tigers but if you're looking for a simple pattern to tie, or simply another style of tying to experiment with, I recommend trying a "Zambezi" Hi-Tie. Just for the fun of it.
Interested in tigerfishing the Zambezi?
Where to begin if you're considering a trip. Tell them what you want and they'll handle all of the details—lights, ground transportation, lodging, meals, guides, tours, etc. Mention me specifically when booking and expect first-class service.
Bush camps at which I stayed:
Tying the Zambezi Hi-Tie
| | |
| --- | --- |
| Hook: | Daiichi 3472, Mustad 34011 or similar long shank hook, either stainless steel or bronzed |
| Thread: | Size A nylon, white or chartreuse |
| Tail: | White bucktail (length may vary, 2"-4") |
| Body: | Thread or pearl Glimmer |
| Wing: | Layer of white bucktail, followed by two of fluorescent chartreuse and one of blue, interspersed with layers of pearl Gartside Secret Stuff (GSS) |
| Eyes: | Jungle cock or eyes painted on head or none |
Note: The original Hi-Ties are tied so that the bucktail stands almost straight up from the shank to create a wide-profile fly; I prefer however to wind back over the bucktail with a turn or two of thread so that the hairs angle back a bit more to the rear. But this is personal preference only; you may tie this fly in any manner you see fit.The overall length of this fly may be between 3"-6" and the thickness of the fly may vary from fairly slender to fairly full, depending on desired effect.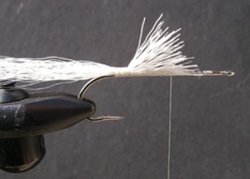 Tie in a length of bucktail for the tail. To more securely and neatly bind the hairs, use the "mohawk" method of securing them to the hook, separating the hairs with turns of thread as you wind forward and then trim them flat in a kind of "mohawk" haircut.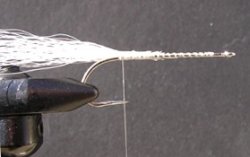 Wind your thread to the rear and secure each successive group of hairs as you do so that you have a neat and smooth and very secure winding of thread over the hairs.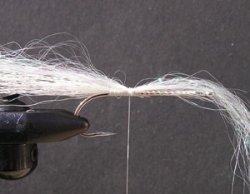 Wind your thread forward five or six turns from the base of your tail and tie in (in the middle of the strands) an 8" length of GSS, so that some strands are facing the eye of the hook and some are facing the bend.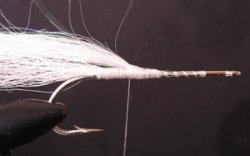 Draw the forward-facing strands back over the rear-facing strands and tie them down so that both are locked in place. Comb out strands so that they blend in with the tail.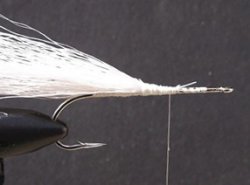 Wind your thread forward five or six turns and, following the instructions for steps 1 and 2, tie in a second length of white bucktail (so that its tips are slightly shorter than the tips of the tail). Trim excess and cover butts with thread windings.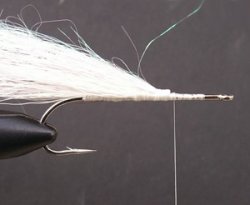 Tie in some more GSS to blend with the white bucktail, repeating steps 3 and 4.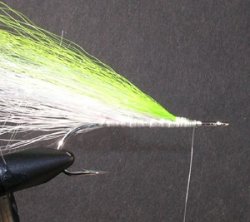 Wind your thread forward five or six turns and, following the instructions for steps 1 and 2, tie in a length of chartreuse bucktail (so that its tips are slightly shorter than the tips of the tail). Trim excess and cover butts with thread windings.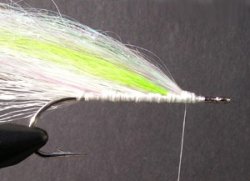 Wind your thread forward four or five turns and, following the instructions for steps 3 and 4, tie in some more strands of GSS and secure them with windings of thread.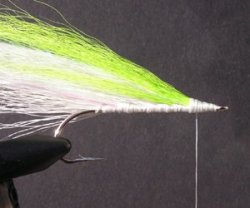 Wind your thread forward four or five turns and, following the instructions for steps 1 and 2 tie in a second length of chartreuse bucktail. Trim excess.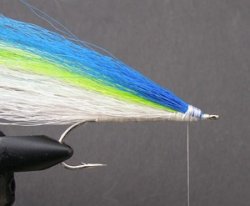 Wind your thread forward four or five turns and, following the instructions for steps 1 and 2 tie in a length of blue bucktail. Trim excess. Add a coating of head cement to the thread body for more durability. Note: The traditional Hi-Tie is complete as tied to this point--and you may tie it off following the completion of step 10--but I prefer to tie in a quantity of white bucktail to the underside of the fly to give it added fullness of form. If you care to do this, please follow the next step.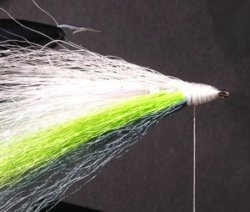 Invert hook in vise and tie in a length of white bucktail, tips to extend 3/4 length of wing. Trim excess and form neat thread head. Whip finish and add cement.
Optionally, add fabric paint eyes.