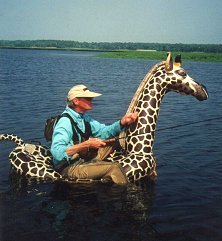 Jack Gartside is counted as one the most innovative and prolifically inventive fly tyers of the modern era. He got his first fly tying lesson in 1956 from Ted Williams, the great Boston Red Sox outfielder. That served as the beginning of a professional tying and angling career that spanned more than 50 years. Jack was one of the first fly tyers profiled in Sports Illustrated magazine (Oct. 12, 1982). His best-known original patterns include the Gurgler, the Sparrow, the Soft Hackle Streamer, and the Gartside Pheasant Hopper. His designs have been featured in Eric Leiser's Book of Fly Patterns, Judith Dunham's The Art of the Trout Fly, Lefty Kreh's Salt Water Fly Patterns, Dick Stewart's Salt Water Flies, and Dick Brown's Flyfishing for Bonefish.
Sadly, Jack left us in December 2009. In 2010 he was selected into the Fly Fishing Hall of Fame. It was a long-standing desire of his that his work and this web site continue to be available after he was gone. And so it is.
Books
Jack is the author of Striper Flies, the first book ever specifically written on fly patterns for striped bass. Another book, Striper Strategies, wass described by reviewer Steve Raymond as: "...one of the most remarkable striper-fishing manuals to see the light of day," and by reviewer Tom Meade as "Blessed with bright writing, keen observations, and the most concise advice a striper hunter can find."
Other books by Jack include Secret Flies, The Fly Fisherman's Guide to Boston Harbor, Scratching the Surface, Fly Patterns for the Adventurous Tye,r and Original Salt Water Fly Patterns.
In the Press
Jack has been profiled in Fly Rod & Reel, Fly Fisherman Magazine, Fly Fishing in Salt Waters, VillmarksLiv, La Peche en Mer, Tight Loop, and other national and international publications. He appeared on the cover of Fly Fishing in Salt Waters (the famous photo of Jack and his inflatable giraffe) and Tight Loop (December, 1998).
What Some of the Experts Say About Jack
Kenney Abrames: "A rare angler of substance."
Judith Dunham: "Jack had talent for many things–fishing, tying flies, telling stories, dancing to any music the band played, exchanging ideas about any subject–and an unmatchable passion for life."
A.K. Best: "One of the reasons I enjoyed working the Fly Fishing Shows was to spend some time between show gigs gassing with Jack. He always had some bit of humor to share. It helped all those listening be aware that fly fishing and fly tying is supposed to be fun."
Gary Borger: "One of only a few who have ventured outside the ordinary...We first met many years ago at a campground just outside West Yellowstone. Jack had just taken a 25-inch brown on his Sparrow from the Madison, and when I saw the fly, I knew I was talking to a guy that understood big fish. "
Eric Leiser: "Exceptionally gifted."
Gary LaFontaine: " Few can match him for creativity in pattern innovation."
Bud Lily: "Jack's flies are superb. He has a lot of integrity, a lot of principle and a lot of feeling for what the sport is."
Robert Rifchin: "I've never seen anyone who has consistently produced better flies."
Dick Talleur: "As creative an angler as he is a tyer, with a great instinct for coming up with things that work when nothing else seems to."
Lefty Kreh: "His paint don't dry."