Fishing a Gurgler is one of the most thrilling ways to catch a fish. If I had only fly I could fish all the time, the Gurgler would be it. Whether it's striped bass, freshwater bass, trout, tigerfish or just about any other sportfish you can name, a properly-fished Gurgler can entice and excite even the most reluctant fish to smash it as you work the fly across the surface.
What do I mean by "properly-fished"? I mean simply fishing the fly in the way that is most effective and draws the most responses from the fish you're fishing for. Since I tie many different versions of the Gurgler for many different species of fish, there are many different ways to fish it effectively. In this short article I'll explore some of the techniques I use when fishing for striped bass, largemouth bass and trout in the hope that these suggestions will help many fans of the Gurgler to catch even more fish with this fly than they've been catching.
First off, the Gurgler--by virtue of its upturned and extended lip--is designed primarily to be a surface "commotion" fly; that is, it attracts fish to it by the commotion or noise it makes while moving across the surface. Once it's done this job of attracting the fish, the form of the fly then assumes greater importance--the form of a baitfish, frog, worm, grasshopper, or whatever--and convinces the fish that this is worth eating. And then the fun begins; for you--not for the fish, which presumably is more than a bit disappointed by the mistake it's made.
A second point to make here at the outset is that the Gurgler is best fished when the water's surface is relatively smooth, when the gurgle will be much more noticeable than when the surface is choppy and wavy, when the natural commotion on the surface will compete with and usually diminish the attractive sound qualities of the Gurgler.
Let's consider first the striped bass and some of the types of Gurglers I use to catch them, as well as some of the ways in which I fish these flies.
Original-Style Gartside Gurgler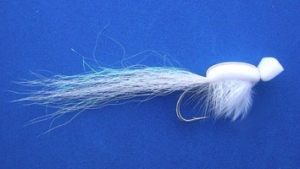 Original Gurgler
This is the most basic of the gurglers I tie and fish for stripers. It's my first choice when the baitfish being fed upon are on the small side, 1-4 inches--small silversides for instance--and stripers are being picky about size. If stripers are actively feeding on these fish up on the surface, I generally fish the gurgler in among the school and work the fly relatively slowly back towards me, giving it a gurgle about every foot or so. If no fish are showing or showing only occasionally, I'll fish it quite a bit faster, with more frequent gurgles or even louder pops to attract fish that may not be actively feeding. Important here, as with all gurgler fishing, is to vary your retrieve from time to time; sometimes slower, sometimes faster and more energetically; sometimes with short pauses, sometimes with longer pauses. You'll often find that the fish will prefer one speed or rhythm to another at the time you're fishing for them.
If fish sometimes follow your fly and don't take, it's often because they've become aware of your presence or because you've stopped fishing it effectively. To induce more strikes, then, especially when the fly is about twenty or thirty feet away from you, it's often very effective to change the speed and direction of the fly by wiggling your rod tip or describing a figure-eight with your line, moving the fly off to your left or right, which forces the fish to focus more on the fly and less on your presence and also makes the fish think that his prey is about to escape him and that it had better pounce now or lose out on a meal. I've caught many fish this way, often within five or six feet of my rod tip.
When fishing in an estuary, it's often most effective to cast the fly across and upstream and to combine dead-drifting with occasional commotion as you work it towards you, either cross-current or slightly upstream against the current. If you're fishing on the edge of a dropoff, don't be in a hurry to pick up your line and begin another cast. Fish will often follow the fly all the way in and take it at the last possible moment. For this reason, I often let the fly sit in the current and wiggle and move it a bit with short motions, a deadly technique at times.
Flatwing Striper Gurgler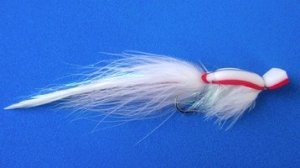 Flatwing Gurgler
I fish this fly, tied in flatwing style and anywhere from 4-7 inches long, whenever larger baitfish such as herring or pogies are in the area and stripers are looking for a larger lunch or whenever I want to attract fish--especially large fish--up from the depths when they aren't actively feeding. Unless I'm working a school of actively feeding fish, I often fish this fly very fast, with a very sharp retrieve involving synchronous hand and rod-tip motions--much as a plugger might sometimes work a plug--sometimes moving the fly two to three feet with each movement. This very active retrieve can induce many hard strikes and is especially useful in the dog days of summer when the fish may be lying deep and might not be so inclined to come up to the surface. When fishing over actively feeding fish I'll slow down my retrieve and keep the fly in among the fish for as long as I can, gurgling it only occasionally to draw attention to it and to make it stand out from the large numbers of natural baitfish.
Worm Gurgler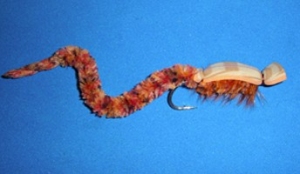 Worm Gurgler
Sand worms or clam worms are found in profusion on many flats. Although they are bottom dwellers by nature they often swim to the surface to feed on detritus, especially at the lower stages of the tide when the current is not very strong. At such times a Worm Gurgler can be a real killer. Worms are not fast swimmers and therefore the Worm Gurgler should be fished very slowly and rather smoothly, with only occasional gurgles to attract attention.
Cinder Worm Gurgler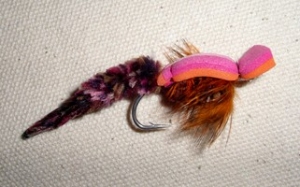 Cinder Worm Gurgler
The Cinder Worm Gurgler is tied to be fished when the sandworms or "cinder" worms are spawning or "hatching," as anglers sometimes describe this spawning activity. Often these worms will swarm in great numbers and stripers will simply move in among them, open their mouths and slurp. These slurping stripers can sometimes be difficult to catch simply because the number of worms available is almost countless at times. At these times it's best to simply toss your fly into a group of feeding fish and let it sit there, popping it only occasionally but not moving it very far from the mass of worms. Stripers will not often chase a fly when there's an abundance of easy food available.
Sand Eel Gurgler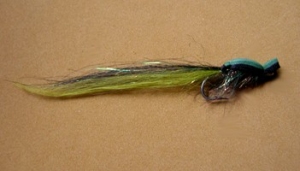 Sand Eel Gurgler
Like the cinder worms when they're "hatching," sand eels often appear in large numbers, easy prey for hungry stripers. When stripers are feeding on sand eels, I fish the Sand Eel Gurgler--in a size slightly larger than the size of the natural--with a slow and steady retrieve, almost a hand-twist retrieve for best results, giving the fly only an occasional gurgle to draw attention to it. If this doesn't work, I'll often tie a Sand Eel Gurgler of a smaller size to the bend of the larger--with a 6 inch distance between them. Fishing two flies can be a deadly technique when stripers are gorging on large numbers of sand eels.
Bass Gurgler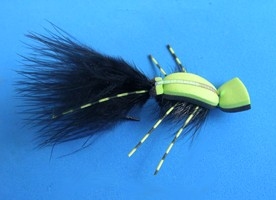 Bass Gurgler
The Bass Gurgler has a lot of active ingredients, with its marabou tail, centipede legs, and palmered hackle all contributing to the illusion of life and making the fly appear to be a more than somewhat tasty morsel for largemouth and smallmouth bass. Because each species has somewhat different habits, I generally fish the fly somewhat differently for each. When fishing for largemouth bass, I will often toss the fly into a likely looking spot--along the edges of weedbeds, sheltered shore structure, rip rap, etc.--and let it sit until the vibrations it makes hitting the water have subsided. Then I'll twitch it slightly and move it slowly, very slowly, with frequent pauses. Occasionally, but only occasionally, will I gurgle the fly as it's moving. Largemouths seem to prefer this rather soft and somewhat silent approach. With smallmouths, I fish the fly more actively, somewhat faster, with shorter pauses, and with more frequent gurgles. When river fishing for smallies, I'll cast up and across stream, let the fly drift for a bit and then work it back across current with short jerks and short pauses. This has been a consistently productive technique.
An additional point: although I tie the Bass Gurglers with many different shell and body colors, I almost always choose a Gurgler with a bright shell--so that I can see it better--and a dark body, hackle, and tail. A chartreuse/black, rainbow/black, or a yellow/black Bass Gurgler would be among my first choices.
Trout Gurglers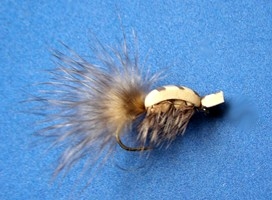 Trout Gurgler
These Gurglers are quite a bit smaller than most of the Gurglers I tie, with some of them as small as #14. For pond or lake fishing I generally fish a #12 tan and gray when no other insects are hatching, casting it along the edges of the shoreline dropoffs or among any structure that I can find and work it back to me fairly slowly with short twitches and only a small amount of commotion. Perhaps the trout take it for a caddis. When river fishing I cast it across and upstream, drifting it for a bit, then working it back to me, again with short twitches. During hopper season, I fish the Grasshopper Gurgler upstream and let it float back to me in a dead-drift, with only an occasional twitch to attract attention. Although I don't often get a chance to fish the midwestern Hex hatch, many of my customers prefer a Hex Gurgler and fish it in the slower stretches of the river, often creating a considerable amount of commotion as they fish the fly to imitate the clumsy takeoff behavior of the natural.
If you haven't yet fished a Gurgler, try one out on one of your local waters. Play around with different retrieves and see how the fish react. Chances are the Gurgler will reward you with lots of fish--and certainly lots of fun.
Happy fishing!