Here's another improbable fishing story from my friend Hugh McDowell of New Zealand (who's pretty improbable himself!)...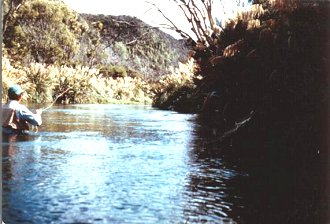 I spotted this big fish rising like crazy underneath that dead tree at right in the picture, so I cautiously approached from downstream.
I say cautiously because, as you can see, that's a fairly deep stretch of water! A suitable dry-fly was selected and I presented it with my customary flawless technique. The fish took first drift - but instead of rushing off, it headed straight for me and shot past heading downstream at a fair rate of knots.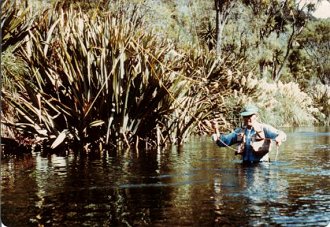 I spun round and tried to retrieve line in order to keep in touch -but wait! Something was horribly wrong. For a moment I couldn't figure it out....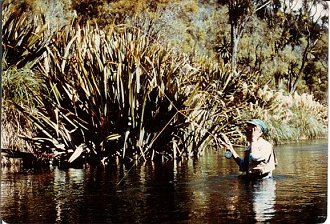 See what it was? The darn fish had bolted through a loop in the line between the reel and the stripper guide, so when I tightened up, this is the result!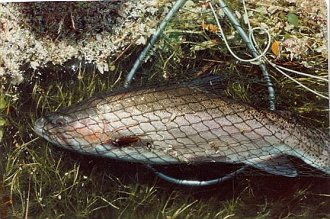 Well, my friend with the camera took this picture before we released an indignant 4 1/4 lb rainbow! Who said there's no such thing as fisherman's luck?