---
With the end of the salt water fishing season here in Boston and the start of another winter, it's time to start thinking about southern climes where warm winds blow over sunlit flats. This short piece, one of the few Jack wrote about permit, appeared in his 1989 "A Catalog and Miscelleny".
---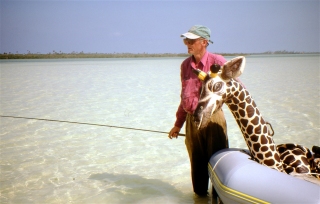 Over the past few years I've developed a real passion for permit. It began with a trip to the Yucatan and has continued through many trips to the Keys. I'd like to share with you some of the things I've learned along the way.
I found that in order to find the fish I had to find the food that permit like best to eat—small crabs, sea roaches, or isopods. Where these are abundant there will often also be permit provided there's enough water on the flat—at least two feet for the larger fish. When it comes to stage of the tide, mid-tide either incoming or outgoing seems best.
Patience pays, as does constant scanning of the water's surface for signs of actively feeding fish. A pair of binoculars is a great help here.
On most days, permit seem to feed most heavily very early and late. At those times, in low light, they are much less spooky than in bright sunshine and therefore easier to fool with a fly. This was especially true down in the Yucatan where I would have the fastest action from first light to about 8:30 a.m. and then from 4 p.m. to dark— and sometimes after, when I would dead drift a fly in the current just under the surface, much as one would a trout fly.
If fish are tailing and holding their position, this is a sign that they are poking around for food. At this time their whole attention seems focused on this activity and the fish seem to be less spooky. You may actually have to slap the fly down on the water to attract its attention. The permit, I suppose, thinks it's something it startled and will often show interest in the fly.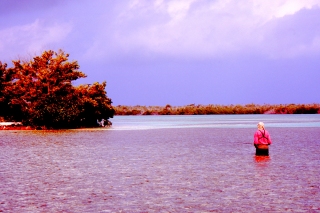 Stalking permit on a turtle grass flaat in Belize
While permit often appear in schools, I've frequently spotted large, solitary fish lying over sandy depressions in the midst of a turtle grass flat, where they remain sometimes almost motionless, for relatively long periods of time (half and hour or more), possibly sleeping or lying in wait for food. A cast a couple of feet to the side of this permit with a soft-plopping, slow sinking fly will often bring a strike.
While sight fishing is certainly the most enjoyable approach to fishing for permit, it need not be limited to this. When the wind is up and the water is a bit choppy, one can successfully blind cast for these fish. Fish the edges of sandy depressions among the turtle grass or along the margins of small coral islands, or rock outcropping. These are favorite permit (and bonefish) haunts, as there is often a lot of food nearby. Fish these areas much as you would a likely bank along along a trout stream, casting up current (assuming a tidal flow), then drifting the fly along the edges before finally twitching it back. Take care not to hang the fly up on bottom. If you do, break it off rather than retrieving it to avoid spooking the fish.
The most successful flies I've used have been fairly simple ones, but flies with a lot of built-in action: a brown/tan Wooly Bugger type of fly with a short marabou tail, either beaded or unbeaded; a Gartside Pheasant Puff Crab; and the brown Salty Sparrow. Sizes 2 and 4 have worked best. I've tried other patterns but have never had consistent success with them.
If you haven't yet fished for permit, I urge you to give it a try. Don't be discouraged by the reams of print about how difficult they are. Just be patient, keep at it, and you'll be rewarded. And good luck!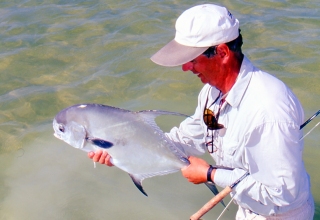 A Keys permit
---
The Salty Sparrow
Readers of Jack's book Fly Patterns for the Adventurous Tyer will recognize the Salty Sparrow as essentially the same fly as the original Sparrow, which was first tied up for trout. The only difference here—apart from being tied on a stainless steel hook—is that the Salty Sparrow is most frequently tied with bead chain eyes to sink more quickl
| | |
| --- | --- |
| Hook: | D2546, M34007, M34011 or equivalent, sizes #8-#2 |
| Thread: | Danville's 6/0, tan or white |
| Tail: | Natural or dyed grizzly rump marabou feather, tied short |
| Body: | Tan antron blend, squirrel body hair, or dubbed marabou |
| Hackle: | Dyed or natural pheasant rump hackle (one turn, to extend at least to tip of tail) |
| Head: | Pheasant aftershaft feather(s) natural or dyed wound on as a collar behind, over, and in front of eyes |
| Head: | Gold or silver bead chain, optional |
The Gartside Pheasant Puff Crab
So far as I know, Jack's writings do not give a dressing for the Pheasant Puff Crab. But of it he wrote:
"This is the fly that experienced permit fishermen around the country have been talking about. Because it really works. And for many fishermen I've heard from, it's outperformed all other patterns by far. It's tied entirely with soft pheasant fibers dyed tan or brown. Imitates nothing specifically but suggests lots of food that permit like to eat: crabs, sea roaches, isopods, etc. Looks weird, but then, so do permit."
A rough sketch in his 1989 catalog shows a fly with a short, shaggy tail and a puffy body that is probably wound feather. If and when I find something more definitive I will update this article.