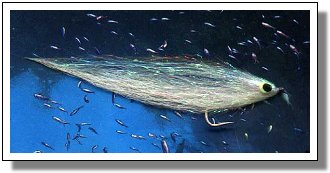 Atlantic herring spawn throughout most of the fishing season, usually from April through September, depending on locality, and are fed upon eagerly by many larger fish, including stripers. The blueback herring is one of the more commonly-found herrings. A good herring imitation should, therefore, be part of any salt water angler's arsenal.
The Gartside Blueback Herring, described below, is a variation of the Bucktail Beauty (see my book Original Salt Water Fly Patterns for detailed tying instructions). The Bucktail Beauty (and the fly may also be tied in this manner) is constructed with three separate clumps of bucktail, one clump each for the tailwing, overwing and underwing (total length to be approximately 4 1/2"-6/"). You can also think of this type of construction as a Bucktail Deceiver, to which it is structurally similar or as a Blonde with an underwing.
The Gartside Blueback Herring is simply a blue/white Bucktail Beauty with a head of GSS fronting the fly to give it a more realistic appearance. Eyes are then painted on with fabric paint to complete the illusion. Another version of the Blueback Herring that I tie is tied completely with GSS but I'll leave the description of this fly for another time. Meanwhile, tie up a few of these to use next time you go out fishing. If you fish in the Northeast you'll find this a useful pattern throughout most of the fishing season.
| | |
| --- | --- |
| Hook: | Mustad 34007, Daiichi 2546, #1/0 |
| Thread: | Danville's 3/0, white |
| Tailwing: | White bucktail |
| Flash: | GSS or Flashabou |
| Underwing: | White bucktail |
| Overwing: | White bucktail with a topping of blue bucktail |
| Head: | Dubbed and formed head of Pearl GSS (for GSS tying technique, see Tying the Secret Baby Baitfish or my pamphlet, Secret Flies) |
| Eyes: | Black on Yellow |