The Skinny Minnie is really not a pattern, but more a name I use to describe very slender, narrow-winged baitfish imitations tied with the narrow saddle hackles found on the outside edges of most saddle patches. Its name is taken from one of my favorite Bill Haley songs--"My skinny Minnie is a crazy chick, six foot high and one foot thick." If you know the tune, hum it or sing it while you're fishing this fly and you'll have the perfect rhythm to match your retrieve to.
The Skinny Minnie is effective whenever long and slender baitfish such as sand eels or needlefish are prevalent. It is also recommended whenever you want to show fish an alternative to bushy, more heavily profiled baitfish imitation, or when you simply want an attractor fly with an abundance of fish-attracting action.
The recipe below is really just a variation of my Soft Hackle Deceiver, and is only one version of these extra-long and slender flies that I enjoy fishing. Other variations include:
The more realistic "Secret" Skinny Minnie (shown in photo above), a rendition that incorporates a head formed from Gartside's Secret Stuff together with painted eyes;
The Corsair Skinny Minnie, with a head formed with Corsair tubing;
The Floating Skinny Minnie, which features long saddles flowing off the bend of the hook, with either a foam shell forward of these (much like my Slider--or Gurgler if you leave a lip on the foam) or a foam-filled length of Corsair tubing to form the forward section of the fly.
Each of these variations has its virtues which the creative and adventurous tyer will want to experiment with.
The Skinny Minnie recipe below is tied in chartreuse. Other effective colors include white, olive, black, grizzly/white, and yellow. While the recipe below uses a salt water hook, the Skinny Minnie is also a very effective fly for fresh water largemouth and smallmouth bass, trout, pike and muskie. For fresh water use, tie the Skinny Minnie on a Mustad 3406 or Daiichi 2451.
Tying the Skinny Minnie
| | |
| --- | --- |
| Hook: | 34007, Daiichi 2546, Sizes 2-1/0 |
| Thread: | Danville's 6/0, white |
| Tailwing: | Four matched narrow and long chartreuse saddle hackles tied in vertically (in the standard manner) or as a flat-wing. Note: Length of tailwings may vary. For size 2, I prefer 4" - 5"; for size 1, 5"-6", and for size 1/0, 6"-8". |
| Flash: | Pearl GSS or Flashabou |
| Body: | Pearl Glimmer or mylar tinsel |
| Hackle: | Chartreuse blood marabou |
| Collar: | Natural mallard flank feather |

Match up two pairs of saddle feathers (two against two, concave sides together) and tie in slightly forward of the bend of the hook. Trim excess
Tie in tailwing flash. (no image)

Tie in Glimmer or mylar tinsel and wind forward to form a smooth, slender body. Trim excess.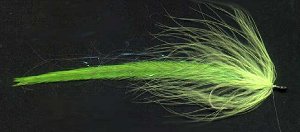 Tie in a blood marabou feather at a narrow point of the stem and wind three to four turns forward. Trim excess. (See Soft Hackle Streamer directions on web site if you're not familiar with this procedure.)