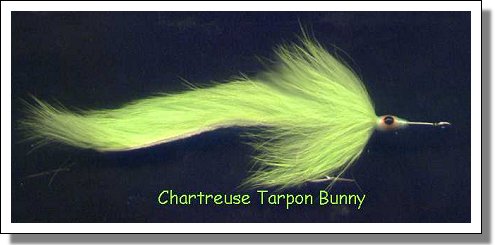 Brrr! It's a cold winter above the Mason-Dixon Line and if you live in in an area where you can hammer nails with frozen bananas, your thoughts often roam to warmer climes. One sure cure for those fed up with the mid-winter cold and snow is to pack up your gear and head south--to Florida, Mexico, or the Bahamas or any place else that's warm--and has good fishing, of course.
If you do head south for some tarpon or snook fishing, you might want to tie up a couple of Bunny Flies to take with you. If you can't make your escape right now, then let your fingers do your flying for you and take a trip in your imagination as you tie up some of these extraordinarily simple--and effective--flies.
Unlike most of the flies on this web site, the Tarpon Bunny is not one of my original designs. I don't know who tied it first, but the very first one I saw was tied back in the mid 70's by my good friend, the late Ken Miyata, who tragically drowned while fishing the Big Horn River in Montana over twenty years ago. Ken was not only a great trout fisherman but a first-rate salt water fisherman as well. When he showed me some of these "Bunny" flies he had tied up I had to laugh; They were not much like the somewhat sparse flies that tarpon fishermen have over time come to call "Bunny Flies" but rather a much fuller fly with a tail of rabbit strip and a shank completely covered from bend to eye with wrappings of rabbit. It was a fly that was not only tied completely with rabbit but looked in fact much like a small rabbit itself, a big ball of fur on a hook, lacking only ears and a carrot-munching mouth. He claimed that he had taken some large tarpon with them on a recent trip to the Keys and was sure that they would work on trout as well. And of course they did, as I soon found out when I helped him net several very, very large rainbows that were enticed by the undulating fur of his White Bunny Fly while we were fishing Box Canyon on the Snake.
You have a choice here, then. You can tie the Bunny Fly up as Ken originally did, with a full body of rabbit, or tie it up as presented below, in what has come to be known as a Keys-style Bunny, with a relatively short tail and a wrapping of rabbit that covers roughly only the rear third or half of the hook. Either way, you'll find the Bunny Fly a real fish-taker.
Tying the Tarpon Bunny
The dressing given below is for a chartreuse Tarpon Bunny but, of course, you may tie your Bunny Flies up in a wide variety of colors to suit different situations or perhaps merely your own taste. Among my favorite colors and/or combinations are: (collar color given first, tail second) : chinchilla, grizzly and chinchilla , tan, black and tan, orange, black and orange, pink, white and pink, purple, black and purple, rust, grizzly and rust, red and yellow, white, and red and white.
| | |
| --- | --- |
| Hook: | 2546, Mustad 34007, #1- 3/0 |
| Thread: | White Flat Waxed Nylon or Danville's 6/0 chartreuse |
| Tail: | Chartreuse-dyed rabbit strip, approx. 1/4" wide (wider if you prefer) |
| Collar: | Chartreuse-dyed rabbit strip wound around shank or chartreuse-dyed saddle hackle (to include base marabou-like fibers) |
| Eyes: | Optional, black on orange |
| Head: | Chartreuse |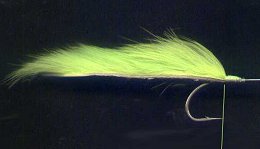 Tie in a strip of pre-cut rabbit on top of hook shank just before the bend of the hook. Strip length may vary from 2"-4", depending on preference (yours or the fish's). Trim away any excess material and cover with thread the remaining material, which will serve as a base for your collar.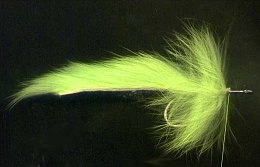 Tie in a rabbit strip on top of hook just in front of tailwing and wind forward 3 or 4 turns, depending on fullness desired. Trim away excess material.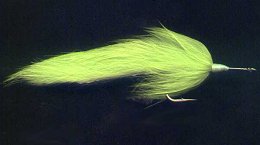 Wind thread back into the collar to compress the fibers and give them a rearward slant. With thread wraps, form a neat tapered head.
A tip: rabbit fur is notoriously prone to the effects of static electricity (especially the shorter, finer hairs) and will plague you in your tying unless you slightly dampen the fur and sweep it away from your head area when forming it--and also when applying head cement.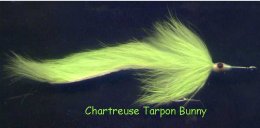 If desired, paint eyes onto your head with fabric paint and coat again with cement.