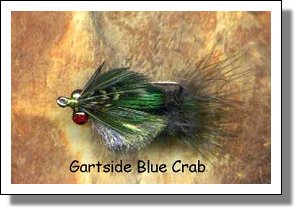 The cold, snowy weather the northeast has been experiencing has put me in a "crabby" mood. It's time to think of warmer places, warmer waters, anyplace but here; a good time also to share with you some simple and effective crab patterns I've been experimenting with lately (plus a baby flounder pattern for good measure).
Crab species are numerous but these three patterns represent some of the more common species. You can of course tie some up in colors more suited to specific areas and species. All three employ the same simple technique, so rather than repeating the instructions for each pattern, I'll give the tying steps for only the Blue Crab and you can follow these steps to tie up the other two crab patterns (as well as the Sassy Dab baby flounder) listed at the end of the article.
The body material I use for these flies is my Crab n' Dab Fur, available through this Web site. It's a very soft yarn made mostly of viscose and polyester which is woven into a string on one side only. This one-sided strung yarn is very easy to work with, allowing the tyer to quickly form a body by simply winding it along the hook shank until the desired fullness is attained. It can sometimes be found in craft stores under the generic name of eyelash yarn. Or if you prefer you can substitute wound hackle.
Tying the Gartside Blue Crab
Hook:

Daiichi 2546 or Mustad 34007, # 4-1/0

Eyes:

"Presentation" or Krystal eyes (any color), or plain barbell lead or tungsten eyes.

Thread:

Danville's 3/0 or Flat Waxed Nylon, white.

Tail:

Blue-dyed grizzly marabou rump feather (or blue and green-dyed grizzly marabou rump feathers tied on together).

Body:

One strand each of blue and green Crab 'n Dab Fur tied on and wound together and then trimmed to shape.

If you don't have Crab 'n Dab fur, you can use an eyelash yarn, sometimes obtainable in craft stores, or wound hackle.

Overlay:

Two blue-dyed mottled pheasant back feathers tied on flat over body.

If you don't have blue-dyed pheasant feathers, you may use the naturally bluish back feathers found on many pheasants. For a really stunning look, you may place a blue-dyed pheasant feather over a blue-green iridescent natural peacock breast feather, tying them both in together.

Legs:

Optional:"sili-legs" or rubber legs.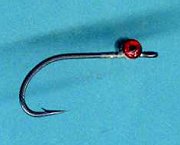 Tie in eyes on top of the hook shank approximately one eye-length back from the eye of the hook.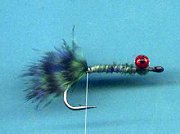 Tie in tail of approximately 1" long at bend of shank. Trim excess.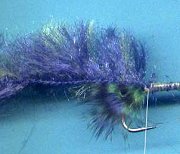 Just in front of the tail, tie in two strands of Crab 'n Dab Fur (one of blue, the other of green) with "hackle" standing up along the shank and the bare side of the yarn down, for ease of winding and better distribution of fibers.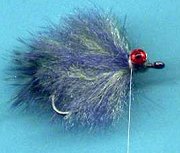 Wind both strands of "hackle" around the shank--both at the same time--working forward, until you reach the back of the eyes. Tie down and trim off excess. (Tip: As you wind, brush each turn of "hackle" to the rear with your fingers so that you're not winding over material.)
With an eyelash groomer or similar tool, comb out strands to free up any tied-down fibers and also to better blend the fibers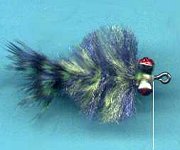 Trim material flat on top and bottom and round it out on its edges to give it a crab-like form. (Top view shown here).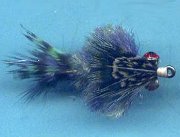 Invert the hook in your vise (remember, this pattern and the other three given here are tied in an inverted style so that the hook point rides up as it's fished) and wind your thread forward so that it's now in front of the eyes.
Tie in two matched blue-dyed pheasant back feathers (concave side down) just in front of eyes. I like the tips of these feathers to reach back to a point roughly half way between the point of the hook and the rise of the barb. Trim excess and form a neat thread head. If desired, color the white thread head blue or olive with a waterproof marking pen before applying head cement.
Optional: If you desire legs on these crabs, simply tie in one set of legs on the topside of the shank after taking approximately two turns of "hackle" or, if more legs are desired, evenly space out three sets of legs along the shank between turns of material.
You can tie these additional patterns using the same steps you used to create the Gartside Blue Crab.
Gartside Calico Crab
| | |
| --- | --- |
| Hook: | Daiichi 2546 or Mustad 34007, # 4-1/0 |
| Eyes: | "Presentation" or Krystal eyes (any color), or plain barbell lead or tungsten eyes. |
| Thread: | Danville's 3/0 or Flat Waxed Nylon, white |
| Tail: | Tan-dyed grizzly marabou rump feather. |
| Body: | Tan Crab 'n Dab Fur Hackle trimmed to shape. |
| Overlay: | Two mottled tan partridge back feathers tied on flat over body. |
| Legs: | Optional:"sili-legs" or rubber legs. |
Gartside White Sand Crab
| | |
| --- | --- |
| Hook: | Daiichi 2546 or Mustad 34007, # 4-1/0 |
| Eyes: | "Presentation" or Krystal eyes (any color), or plain barbell lead or tungsten eyes. |
| Thread: | Danville's 3/0 or Flat Waxed Nylon, white |
| Tail: | Light grizzly marabou rump feather. |
| Body: | Cream Crab 'n Dab Fur Hackle trimmed to shape |
| Overlay: | two mallard breast feathers tied on flat over body. |
| Legs: | Optional:"sili-legs" or rubber legs. |
Sassy Dab Flounder Fly
| | |
| --- | --- |
| Hook: | Daiichi 2546 or Mustad 34007, # 4-1/0 |
| Eyes: | "Presentation" or Krystal eyes (any color), or plain barbell lead or tungsten eyes. |
| Thread: | Danville's 3/0 or Flat Waxed Nylon, white |
| Tail: | Tan-dyed grizzly marabou rump feather. |
| Body: | Tan and Brown Crab 'n Dab Fur Hackle tied on and wound together and then trimmed to shape. |
| Overlay: | Two mottled pheasant back feathers tied on flat over body. |